Museums
Want to visit a museum? There is plenty of choice on Curaçao:
Diving
Curaçao is a paradise for diving, with many fantastic snorkeling and diving sites.
Most dive operators offer PADI certification courses.
Dive information
Dive operators
Beaches
Curaçao doesn't have the long beaches typical for other Caribbean islands. But there are over 35 small natural beaches on the southern and western coasts that are great for swimming, snorkeling and sunbathing.
Most of these beaches have a snackbar and pick-nick facilities. Some charge an entrance fee for which they claim to provide more facilities and to keep the beach clean.
Popular beaches can be crowded in the week-ends, but on working days you often have the beach for yourself alone.
Be careful with the sun and look for a place in the shadow!
For information on beaches see: Curaçao Travel Guide.
Our preferred free beaches are listed below.
Knip Beach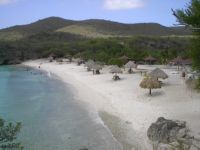 One of the most popular beaches for locals.
Can be crowded during the weekend.
There is a snackbar and parasols.
Small Knip Beach

A beautiful small and quiet beach. We use to have barbecue here (not on the sand!).
The snackbar is open in the weekends only.
Playa Lagun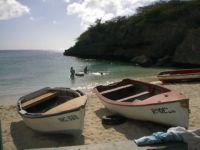 You can't miss the small fishing boats.
Close to some restaurants.
Daaibooibaai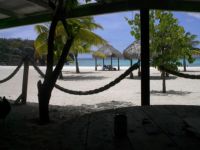 Nice beach with good snackbar.
On the road to the beach you will pass an area with flamingoes, near Willibrordus.
Playa Marie Pampun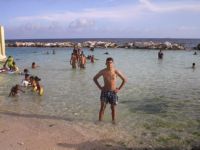 Close to our bungalow. We often walk early in the morning or later in the afternoon (10 minutes) to this small beach.
It is ideal for children, and there are two terraces where drinks and good local food are served.
Activities
Curaçao offers you a wide variety of entertainment, activities, sightseeing, sports, nightlife, restaurants, shopping; too much to list all here.
Therefore check out the selected links below:
Rental cars
A rental car is a 'must' for going around on Curaçao.
You can pick up your car at arrival at the airport, and bring it back at departure.
Prices don't differ much between different reliable companies, but may vary a bit between high and low season.
All companies have a fixed price per day, with unlimited mileage. Additional costs are fuel, CDW (about Euro 9.– per day), permission for additional drivers (Euro 4.50 per day per driver), sales tax.
Price indications from some companies for a small car with automatic transmission, aircondition, including CDW, second driver, sales tax: Euro 30.- tot 40.- per day.
Fuel is about Euro 1.00 / liter. You always have to pay in advance.
You should return the car with the tank filled to the same level as when you received it.
Tips
Rent a car in advance, directly or via your travel agency, from one of the larger companies, so that the car of your choice is available at arrival, and you are ensured of reliable service.
Rent a car with aircondition!
Include CDW in your rental contract.
Follow the anti-theft instructions.
Search for the cheapest rental cars on Curaçao: https://www.holidaycars.com/car-rental/curacao/